Store Address
675 Saratoga Avenue
San Jose, CA 95129
(408) 255-6699
Store Hours
Daily 9:00am-9:00pm
Restaurant Hours
11:00am-8:00pm
SPECIAL DEALS
8.2(Fri.)-9.5(Thu.)
C.A.B.

Chuck Roll For Sukiyaki

アンガス公認牛

肩ロース すき焼き用

NATURAL PORK

Belly For Shabu-Shabu

ナチュラルポーク

豚バラ しゃぶしゃぶ用

Pork Skewers Jowl, Belly

ポーク串 ほほ肉、バラ肉

Octopus For Sashimi

たこ さしみ用
KATSUREN

Mozuku Seaweed

勝連

早摘みシャキシャキもずく

8.8 OZ

SANKO

Chinmi Selected Var.

三幸

珍味 各種

2.8-5.8 OZ
S&B

Tasty Sauce Mix Curry, Stew, Hayashi

エスビー

とろけるシリーズ 7種

5.6-7.0 OZ

NISSHIN OILLIO

Canola Oil

日清オイリオ

日清キャノーラ油

33.8 FLOZ

HUY FONG FOODS

Sriracha Hot Chili Sauce

HUY FONG FOODS

シラチャーホットチリソース

17.0 OZ
SHIBANUMA SHOYU

Soy Sauce, Ponzu, Soup Base

柴沼醤油

紫峰の滴、ゆずかつお、紫峰のつゆ

10.1-16.9 FLOZ

OTAFUKU

Sauce Okonomi 2Var., Takoyaki, Yakisoba

オタフク

ソース お好み 2種、たこ焼、焼そば

7.8-17.6 OZ

OTAFUKU

Okonomiyaki Flour, Takoyaki Flour

オタフク

お好み焼粉、たこ焼粉

15.9-16.0 OZ

OTAFUKU

Namasu Vinegar

オタフク

なますの酢

10.1 FLOZ
KEWPIE

Mayonnaise

キューピー

マヨネーズ

17.6 FLOZ

PIETRO

Dressing 4Var.

ピエトロ

ドレッシング 4種

9.3 FLOZ

SHIRAKIKU

Easy Cooking Whole Grain Brown Rice

白菊

健やか玄米

15.0 LB

SHIRAISHI KOSAN

Dried Noodle Soba, Udon, Somen, Hiyamugi

白石興産

郷の麺処 乾麺 4種

8.4-10.5 OZ
COCA COLA JAPAN

Drink 5Var.

日本コカコーラ

ドリンク 5種

67.6 FLOZ

OSAKA OHSHO

Karaage Mix

大阪王将

から揚げの素

1.9 OZ

OSAKA OHSHO

Gyoza Dipping Sauce

大阪王将

餃子のたれ

3.3 FLOZ

KURAKON

Salted Kelp Seaweed 2Var., Low Sodium

くらこん

塩こんぶ 2種、化学調味料無添加減塩

0.9-2.1 OZ
TAISHO PHARMACEUTICAL

Lipovitan 5Var.

大正製薬

リポビタン 5種

20.4 FLOZ

JFT

Organic Megumi Natto Fermented Soybeans

JFT

オーガニックめぐみ納豆

3.0 OZ

MARUTSUNE

Tamago Tofu

マルツネ

玉子どうふ

12.6 OZ

DAIKOKUYA SHOUTEN

Tokoroten, Black Vinegar Tokoroten

大黒屋商店

ところてん、黒酢ところてん

7.7 OZ
SUN NOODLE

Hiyashi Chuka 2Srv., Tan Tan Ramen 2Srv.

サンヌードル

冷し中華 2食、担々麺 2食

11.0 OZ

SUN NOODLE

Nihon Soba 2Serv.

サンヌードル

蕎麦 2食

11.5 OZ

SHIRAKIKU

Japanese Style Noodles Sanukiya Udon

白菊

讃岐屋うどん

44.0 OZ

SHIRAKIKU

Buns 3Var.

白菊

ぶたまん、チャーシューまん、あんまん

13.5 OZ
NISSUI

Osaka Style Takoyaki

ニッスイ

大阪風 たこ焼

14.1 OZ

SANREI FOODS

Crab Cream Croquette

さんれいフーズ

かにクリームコロッケ

12.6 OZ

MORIYAMA

Caffe Latte, Tea Latte, Matcha Latte

守山乳業

カフェラテ、ティーラテ、抹茶ラテ

6.8-7.4 FLOZ

TARAMI

Fruit Jelly 9Var.

たらみ

とろける味わい ジュレ 9種

7.4 OZ
ARATAMA

Daifuku Mame, Kusa, Kinako

あらたま

豆大福、草大福、きなこ大福

8.2 OZ

MORINAGA

Ice Box Grapefruit

森永

アイスボックス グレープフルーツ

4.5 OZ

LOTTE

Toppo Original, Bitter

ロッテ

トッポ オリジナル、ほろ苦ビター

2.5 OZ

SANKO

Niigata Shikomi Senbei Soy Sauce, Seaweed Salt

三幸

新潟仕込み 焦がし醤油、のり塩味

2*15-2*12 PK
RISKA

Sittori Chocolate, Sittori Matcha

リスカ

サクッとしっとりチョコ、抹茶

2.4-2.8 OZ

KOIKEYA

Pride Potato Salt, Seaweed

湖池屋

プライドポテト うす塩、濃厚のり塩

2.1 OZ

FUJIYA

Peko Milk Soft Candy

不二家

ペコちゃん ミルクソフトキャンディー

2.9 OZ

KIRIN

Ichiban Beer 24Can

キリン

一番搾り 24缶

12.0 FLOZ*24
OZEKI

Ikezo Sake Jelly Shot 3Var.

大関

酒ゼリーショット 3種

6.1 FLOZ

OZEKI

Ikezo Sake Jelly Shot 3Var. Set

大関

酒ゼリーショット 3缶セット

6.1 FLOZ*3

TAKARA

Mirin

タカラ

みりん

23.6 FLOZ

SANWA SHURUI

Iichiko Barley Shochu 2Var.

三和酒類

むぎ焼酎いいちこ、清凛

25.3 FLOZ
OTOKOYAMA SHUZO

Otokoyama Tokubetsu Junmai Sake

男山酒造

男山特別純米酒

24.3 FLOZ

YAEGAKI SHUZO

Junmai Sake

八重垣酒造

純米酒

50.7 FLOZ

NATURIE

Hatomugi Skin Conditioner W/Spray Bottle

ナチュリエ

ハトムギ化粧水 スプレーボトル付

ROHTO PHARMACEUTICAL

Hadalabo Gokujun Skin Care Selected Var.

ロート製薬

肌ラボ 極潤 各種
MANDOM

Barrier Repair Facial Mask Enrich 3Var.

マンダム

バリアリペアフェイシャルマスク 3種

MANDOM

Bifesta Skin Care Selected Var.

マンダム

ビフェスタ 各種

KOSE

Clear Turn Facial Mask 4Var.

コーセー

クリアターン 4種

ICHIKAMI

Shampoo&Conditioner Set 3Var.

いち髪

ヘアケアセット 3種
KRACIE

Naive Body Wash Set 4Var.

クラシエ

ナイーブ ボディソープセット 4種

BCL

Browlash EX Eyebrow Selected Var.

BCL

ブロウラッシュEX 各種

ELIS

Sanitary Napkin 4Var.

エリス

新・素肌感 ナプキン 4種

COW SOAP

Foaming Hand Soap, Ururua Hand Soap

牛乳石鹸

泡のハンドソープ、URURUA
HISAMITSU

Salonpas 10Var.

久光

サロンパス 各種
Product information or packaging displayed may not be current or complete. Limited quantities while supplies last. Sale items and events are subject to change or cancellation without notice. Valid in the San Jose store only.
 8/15 (Thu) – 8/18 (Sun)
Anchindo
Anchindo is a Japanese confection store known for its dorayaki called Makidora, which is a unique Japanese-style pancake filled with sweet paste. Anchindo is coming to our San Jose store from 8/15 to 8/18. Try one bite of their delicious pancake and you will surely fall in love! Don't miss your chance to taste their variety of flavors: Azuki Bean, Edamame paste, and Sesame paste.  
 8/21 (Wed) – 9/9 (Mon)
MoDo donuts from Hawaii
 MoDo Hawaii is coming back to our San Jose store on 8/21 (Wed) – 9/9 (Mon)! Check out their unique mochi donuts in a variety of flavors: chocolate, matcha, strawberry, black sesame, cookies & cream, and more! Don't miss your chance to taste the Aloha spirit of MoDo's yummy donuts!
J.sweets
Confectionery
(408) 725-9263
10:00am-8:00pm
matcha Love by ITO EN
Café
(408) 777-9200
11:00am-7:15pm (M-Thu)
11:00am-7:15PM (F-Sun)
Mitsuwa NAGOMI
Sushi & Deli
(408) 255-6699
Miyabitei
Japanese Cuisine
(408) 252-5010
11:00am-7:30pm
Niitakaya
Japanese Pickles
(408) 255-6699
9:00am-8:00pm
Santouka
Ramen
(408) 446-1101
11:00am-7:30pm
(Sun: close at 7:00pm)
EVERYDAY USEFUL GOODS & SERVICES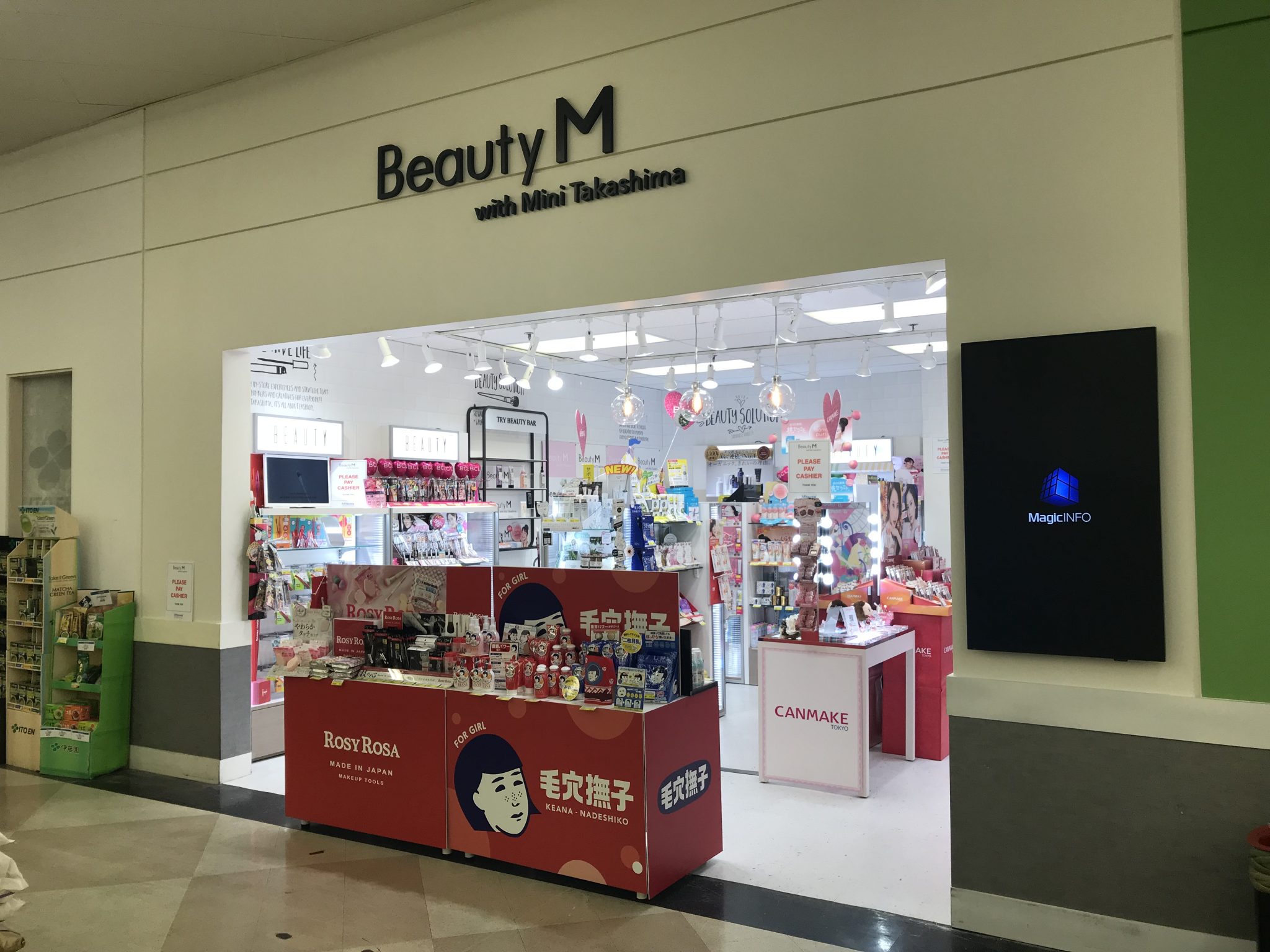 Beauty M with
Mini Takashima
Beauty Supply
9:00am-9:00pm
Books Kinokuniya
Book Store
(408) 252-1300
10:00am-8:00pm
HQ Video 
Video Rental
(408) 253-2507
10:00am-8:00pm
Insurance 110 
Insurance Service
(408) 318-9035
10:00am-6:00pm
Shiseido
Cosmetics
(408) 253-6790
10:00am-6:00pm