Store Address
675 Saratoga Avenue
San Jose, CA 95129
(408) 255-6699
Store Hours
Daily 9:00am-9:00pm
Restaurant Hours
11:00am-8:00pm
SPECIAL DEALS
5.10 (Fri.)-6.6 (Thu.)
C.A.B.

Chuckroll For Shabu-Shabu

アンガス公認牛

肩ロース しゃぶしゃぶ用

SILKY PORK

Pork Loin For Tonkatsu

シルキーポーク

豚ロース とんかつ用

SATOKUN'S

Crispy Pork Sausage Original, Smoked

サトーくん

パリッ!ポリッ!ポークソーセージ

NISSUI

Vinegared Mackerel Fillet

ニッスイ

しめさば

4.2 OZ
HANAMEN SHOTEN

Wakame Seaweed From Naruto

花面商店

鳴門 生わかめ

3.5 OZ

TAISHIN

Seasoned Mozuku Seaweed

大伸

味つけもずく

10.5 OZ

YES! PRODUCE

Poached Winter Bamboo

イエスプロデュース

たけのこ水煮

15.8 OZ
KITOKU SHINRYO

Koshihikari Rice From Uonuma

木徳神糧

新潟こしひかり 魚沼産

11 LB

KITOKU SHINRYO

Hitomebore, akitakomachi Rice From Iwate

木徳神糧

岩手県産 ひとめぼれ、あきたこまち

11 LB

HIGASHIMARU

Light Color Soy Sauce 2Var.

ヒガシマル

丸大豆うすくち 低塩、吟旬芳醇

13.5 OZ
GEORGIA

Classic Original Quality Coffee

ジョージア

クラシックオリジナルコーヒー

8.8 FLOZ

HOTEI FOODS

Seasoned Egg

ホテイフーズ

味付たまご

1.5 OZ

KAMADA SOY SAUCE

Dashi Soy Sauce

鎌田醤油

だし醤油

16.9 FLOZ

KIKKOMAN

Honey Yuzu Vinegar

キッコーマン

蜂蜜柚子酢

17.6 OZ
KEIRIN

Yakiniku BBQ Sauce

鶏林食品

焼肉のたれ 黒こしょうしょうゆ味

7.5 OZ

GOBUN

Inaniwa Udon Noodle

後文

稲庭手造り饂飩

6.3 OZ

NISSIN SEITO

Cup Jirushi Suger 3Var.

日新製糖

カップ印 白砂糖、三温糖、中ザラ糖

35.2 OZ

CALPICO

Calpico 5Var., Gun Gun Gurt

カルピコ

カルピコ 5種、グングングルト

16.9 FLOZ
HIKARI MISO

Menraku Cup Noodle 9Var.

ひかり味噌

麺楽カップ麺 9種

2.7-3.4 OZ

S&B FOODS

Golden Curry Sauce Mix 4Var.

エスビー食品

ゴールデンカレー 4種

7.8 OZ

MARUKOME

Ryoteino Aji Instant Miso Soup 5Var.

マルコメ

料亭の味 即席みそ汁 5種

5.1-5.4 OZ

HOUSE FOODS

Chinese Mabo Tofu Sauce 3Var.

ハウス食品

麻婆豆腐の素 甘口、中辛、辛口

5.2 OZ
NISSUI

Salmon Flakes(Dry Pack)

ニッスイ

焼さけ あらほぐし

3.8 OZ

YAMAMORI

Kamameshi Mix 4var.

ヤマモリ

だし炊き釜めし 4種

6.9-8.3 OZ

HOUSE FOODS

Organic Tofu 4Var.

ハウス食品

オーガニック豆腐 4種

14.0 OZ

HIKARI MISO

Enjuku Koji Miso 2Var., Organic Miso

ひかり味噌

こうじみそ 2種、オーガニック味噌

22.9-26.4 OZ
NISSUI

Fish Sausage

ニッスイ

おさかなのソーセージ

7.92 OZ

KIMURA TSUKEMONO

Shiroboshi Pickled Radish

キムラ漬物

白ぼし

17.7 OZ

AZUMA FOOD

Hokkaido Soybean Natto

あづま食品

北海道産大豆でつくった納豆

4.2 OZ

SUNSAS

Udon, Soba 2Var., Bibim Cold Noodle

サンサス

うどん、そば 2種、ビビン冷麺

9.5-14.8 OZ
MARUTOMO

Fried Wheat Flour

マルトモ

天かす

2.8 OZ

SANMARUKO

Croquette Vegetable, Curry, Corn, Creamy

サンマルコ

コロッケ 4種

10.5-15.5 OZ

NISSUI

Grilled Rice Balls

ニッスイ

焼きおにぎり

16.9 OZ

AJINOMOTO

Shumai Dumplings Crab, Shrimp, Pork

味の素

シューマイ カニ、エビ、ポーク

17.4 OZ
KIKKOMAN

Pearl Organic Soymilk 6Var.

キッコーマン

有機豆乳パール 6種

32.0 FLOZ

MAEDA-EN

Ice Cream, Sharbet Selected Var.

前田園

アイスクリーム、シャーベット 各種

16.0 OZ

SHIRAKIKU

Swiss Roll Cake 6Var.

白菊

スイスロールケーキ 6種

7.0 OZ

GLICO

Caplico Mini

グリコ

カプリコミニ

2.9 OZ
GLICO

Top of Caplicono Strawberry, Milk

グリコ

カプリコのあたま いちご味、ミルク味

1.0 OZ

GLICO

Bisco Original, Fermented Butter

グリコ

ビスコ オリジナル、発酵バター仕立て

5.7 OZ

LOTTE

Choco Pie

ロッテ

チョコパイ

6.7 OZ

YUKIGUNI AGURI

Konjac Jelly 6Var.

雪国アグリ

こんにゃくゼリー 6種

3.8 OZ
ECHIGO SEIKA

Salad Mochi

越後製菓

サラダ餅

3.1 OZ

HYOBANDO

Yuzu&Lemon Cough Drops

評判堂

ゆずと檸檬のど飴

4.5 OZ

MIKAWAYA

Ebi Mirinyaki

三河屋

えびみりん焼

2.6 OZ

UEGAKI BEIKA

Oliveno Hana

植垣米菓

オリーブの花

5.6 OZ
MEIJI

Meltyblend 4Var.

明治

メルティーブレンド 4種

2.11 OZ

KIRIN

Ichiban Beer 12Can Pack

キリン

一番搾り12缶パック

12.0 FLOZ*12

OZEKI

Karatanba Draft Sake

大関

生貯蔵 辛丹波

24.3 FLOZ

OZEKI

Sake Original, Dry

大関

酒、辛口

25.3 FLOZ
CHOYA

Plum Wine Classic, Shiso, Honey

チョーヤ

梅酒 クラシック、しそ、はちみつ

25.3 FLOZ

KIRISHIMA SHUZO

Kirishima Shochu Black, White, Red

霧島酒造

黒霧島、白霧島、赤霧島

25.3 FLOZ

UNILEVER

Dove Botanical Selection Selected Var.

ユニリーバ

ダヴ ボタニカルセレクション 各種

SANA

Nameraka Hompo Selected Var.

サナ

なめらか本舗 豆乳イソフラボン 各種
KRACIE

Naive Cleansing Form 4Var.

クラシエ

ナイーブ 洗顔フォーム 4種

KRACIE

Hadabisei Facial Mask Selected Var.

クラシエ

肌美精 美容マスク 各種

KAO

BioreU Body Wash Refill 4Var.

花王

ビオレU ボディウォッシュ 詰替 4種

BCL

Browlash Eyeliner Selected Var.

BCL

ブロウラッシュ アイライナー 各種
DARIYA

Salon De Pro Hair Dye 6Var.

ダリヤ

サロンドプロ 白髪染め 6種

ELLEAIR

Elis Sanitary Napkin Selected Var.

エリエール

エリス 生理用ナプキン 各種

OKAMOTO

004 Condom Selected Var.

オカモト

ゼロゼロフォー コンドーム 各種

SATO PHARMACEUTICAL

Acess Toothpaste Original, Acess L

佐藤製薬

アセス オリジナル、アセスL
KAO

Fragrance New Beads Gel Detergent 2Var.

花王

フレグランスニュービーズジェル 2種

DENTALPRO

Black Toothbrush Selected Var.

デンタルプロ

ブラックハブラシ 各種
Product information or packaging displayed may not be current or complete. Limited quantities while supplies last. Sale items and events are subject to change or cancellation without notice. Valid in the San Jose store only.
5/25 (Sat) – 6/16 (Sun)
Display Your Dad's Portrait 2019
To participate, please get a piece of special drawing paper at our Customer Service Counter, fill in your child's name and age, and submit it to the Customer Service Counter. Eligibility: 3-12 year-old children. The period of submission, exhibition, and return of portraits are as follows:
Application period: 5/25 (Sat)-6/16 (Sun)
Exhibition period: 6/3 (Mon)-6/16 (Sun)
Portrait Return period: 6/17 (Mon)-6/30 (Sun)
6/7 (Fri) – 6/17 (Mon)
Japanese Gourmet Fair
(Kyo no Tangoya only : 6/7 (Fri) – 6/12 (Wed))
Our San Jose store will offer special food items from Japan such as hand made omusubi (rice ball) is made with Japanese premium rice, premium honey products, and dango as well as gourmet seasoned seafood products. In addition to these gourmet products, you will find selected variety of products from Japan. Some products are available in limited quantities so don't miss your opportunity to attend this special event!
The following exhibitors participate from Japan!
【Exhibitors includes】
Omusubi Gonbei
Their delicately-crafted, hand made omusubi (rice ball) is made with premium rice and seaweed brought directly from Japan. This light and fluffy omusubi is a perfect example of GONBEI's promise to deliver quality products made from quality ingredients. With 16 difference flavor variation available, you're going to want to try as much as you can and find your favorite!
Sugi Bee Garden
Sugi Bee Garden from Kumamoto, Japan, is well-known for its handcrafted, premium honey products that can be enjoyed directly or mixed with water or soda. Sugi Bee Garden will showcase a variety of their fresh fruit juice and honey products.
United Leaf
United Leaf is well-known for its organic and flagrant tea selection which includes their popular rooibos tea. Their tea leaves are grown with fertilizers from raw materials and no pesticides or artificial additives are used during the production process.
Kyo no Tangoya
Kyo no Tangoya offers 4 types of dango, a chewing mochi treat made exclusively with premium Tango Rice of the Kyoto region.
Favor types: mitarashi, matcha, apple, and yuzu
Yamacho
Yamacho is renowned for their vast selection of well-seasoned, gourmet seafood products.
Their products, made with premium ingredients from Hokkaido, Japan, are pretty much guaranteed to make your mouth water after just one sniff.
5/13 (Mon) – 5/26 (Sun)
Return Your Mom's Portrait
Thank you for participating our display of Mom's portrait.
We are starting to return your portrait from 5/13 to 5/26 at the Customer Service Counter.
Please be advised that portrait will not be available after 5/26.
J.sweets
Confectionery
(408) 725-9263
10:00am-8:00pm
matcha Love by ITO EN
Café
(408) 777-9200
11:00am-7:15pm (M-Thu)
11:00am-7:15PM (F-Sun)
Mitsuwa NAGOMI
Sushi & Deli
(408) 255-6699
Miyabitei
Japanese Cuisine
(408) 252-5010
11:00am-7:30pm
Niitakaya
Japanese Pickles
(408) 255-6699
9:00am-8:00pm
Santouka
Ramen
(408) 446-1101
11:00am-7:30pm
(Sun: close at 7:00pm)
EVERYDAY USEFUL GOODS & SERVICES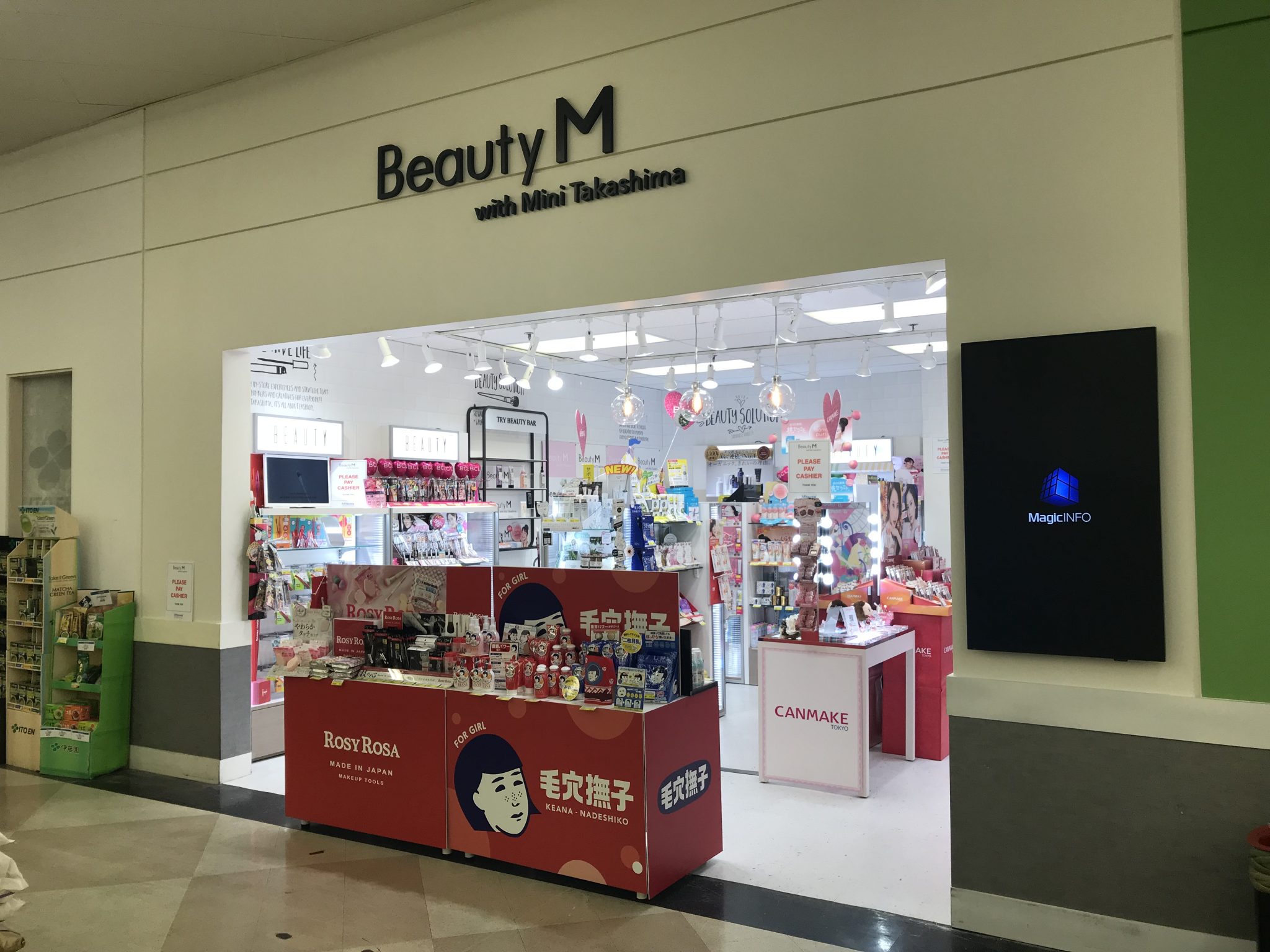 Beauty M with
Mini Takashima
Beauty Supply
9:00am-9:00pm
Books Kinokuniya
Book Store
(408) 252-1300
10:00am-8:00pm
HQ Video 
Video Rental
(408) 253-2507
10:00am-8:00pm
Insurance 110 
Insurance Service
(408) 318-9035
10:00am-6:00pm
Shiseido
Cosmetics
(408) 253-6790
10:00am-6:00pm