Store Address
675 Saratoga Avenue
San Jose, CA 95129
(408) 255-6699
Store Hours
Daily 9:00am-9:00pm
Restaurant Hours
11:00am-8:00pm
SPECIAL DEALS
7.4 (Thu.)-8.1 (Thu.)
C.A.B.

Rib Eye For Steak

アンガス公認牛

牛ロース ステーキ用

SILKY PORK

Pork Butt Komagire

シルキーポーク

肩ロース 細切れ

DAY-LEE FOODS

Arabiki Sausage

デイリーフーズ

あらびきソーセージ

12.0 OZ
Broiled Eel From Japan (Limited Quantities)

鹿児島県産うなぎ蒲焼

Broiled Eel From China

うなぎ蒲焼 中国産

10.0 OZ

SUZUKATSU

Broiled Eel Sauce

鈴勝

うなぎ蒲焼のたれ

2.2 OZ
NAGOMI

Broiled Pacific Saury 3P

和

さんま蒲焼 3P

DAISHO

Salt Pepper 2Var.

ダイショー

味塩こしょう 2種

7.4-7.5 OZ

CALPICO

Calpico 5Var., Gun Gun Gurt

カルピコ

カルピコ 5種、ぐんぐんグルト

50.7 FLOZ
CALPICO

Calpico Concentrate

カルピコ

濃縮カルピス

15.9 FLOZ

SANGARIA

Ramune 6PK 7Var.

サンガリア

ラムネ6P 7種

6.7 FLOZ*6

OGAWA

Dried Noodle 5Var.

小川製麺

乾麺 5種

15.8 OZ

NINBEN

Seasoning Soy Sauce 2Var.

にんべん

つゆの素 昆布仕立て、オリジナル

33.8 FLOZ
MIYABI

Koshihikari Rice

みやび造り

こしひかり

11.0 LB

TOYO RICE

Koshihikari Kinme Rice From Nagano

東洋ライス

金芽米 長野県産こしひかり

9.9 LB

HOUSE FOODS

Vermont Curry Sauce Mix 3Var.

ハウス食品

バーモントカレー 甘口、中辛、辛口

8.1 OZ

EBARA

Yakiniku BBQ Sauce Soy Sauce, Mild, Hot

エバラ食品

焼肉のたれ 醤油、甘口、辛口

10.58 OZ
KUBARA SHOYU

Pickle Seasoning Yuzu, Original

久原醤油

あごだし浅漬の素 ゆず、オリジナル

4.7-5.2 OZ

HACHINOHE KYOWA SUISAN

Takikomi Gohan Mix 2Var.

八戸協和水産

炊き込ご飯の素 2種

11.6 OZ

EBARA

Oroshi BBQ Sauce

エバラ食品

おろしのたれ

9.5 OZ

NISSHIN OILLIO

Linseed Oil

日清オイリオ

アマニ油

5.1 OZ
HIKARI

Organic Pepper Hot Sauce Yuzu, Lemon

光食品

有機唐辛子HOTソース ゆず、レモン

3.5 OZ

ALLEID CORPORATION

Thai Kitchen Selected Var.

アライドコーポレーション

タイの台所 各種

2.8-9.0 OZ

ALLEID CORPORATION

Sichuan Style Mapo Tofu Mix

アライドコーポレーション

しびれる四川麻婆豆腐

3.8 OZ

POLE STAR

Sakurai Kaendo Sesame Tsuyu Base 2Var.

ポールスタア

桜井花筵堂ごまみそつゆ 2種

11.64 OZ
OKAME NATTO

Gokukotsubu 3P

おかめ納豆

極小粒 3P

6.0 OZ

HOUSE FOODS

Premium Tofu Soft, Medium Firm

ハウス食品

絹ごしとうふ、木綿とうふ

14.0 OZ

DAISHIN FOODS

Fujinomiya Style Yakisoba 3P

大進食品

富士宮風やきそば 3食入

15.8 OZ

MARUCHAN

Japanese Style Noodle Hiyashiramen 2Var.

マルちゃん

冷し生ラーメン オリジナル、ごまだれ

18.0-18.5 OZ
TAKAHAMA

Fish Cake 3Var.

高浜

さつま揚げ 3種

6.7 OZ

NISSUI

Cheese Kamaboko, Rich Cheese Kamaboko

ニッスイ

チーズかまぼこ、濃厚チーズかまぼこ

3.2-4.9 OZ

AJINOMOTO

Karaage Fried Tender Chicken Thigh

味の素

やわらか若鶏から揚げ

12.3 OZ

SHIRAKIKU

Korean Japchae Glass Noodles 2Var.

白菊

チャプチェ 2種

7.4 OZ
SHIRAKIKU

Korean Style Pancake 3Var.

白菊

チヂミ キムチ、シーフード、野菜

10.5 OZ

SHIRAKIKU

Fried Rice Kimchi, Bulgogi, Shrimp

白菊

炒飯 キムチ、プルコギ、えび

8.8 OZ

ORANGE

Mini Cream Puff 3Var.

オランジェ

ミニシュークリーム 3種

3.1-4.4 OZ

DAIICHIPAN

Tasty Mini Bread 4Var.

第一パン

ミニパン 4種

6.6-7.1 OZ
IMURAYA

Chocolate Monaka Ice Cream Vanila, Matcha

井村屋

チョコ最中アイス バニラ、抹茶

5.0 OZ

BOURBON

Ajisalon

ブルボン

味サロン

1.9 OZ

KOIKEYA

Polinky Corn Soup, Cod Roe

湖池屋

ポリンキー コーンスープ、めんたいこ

1.5 OZ

BOURBON

Cracker, Bisucuit, Waffer

ブルボン

クラッカー、ビスケット、ウエハース

3.7-4.9 OZ
BOURBON

Petit Series 14Var.

ブルボン

プチシリーズ 14種

1.3-2.0 OZ

MEIJI

Gummy Choco Mix, Strawberry, Muscat

明治

グミチョコ 3種

2.8 OZ

ASAHI

Super Dry Beer 12PK

アサヒ

スーパードライ 12缶パック

12.0 FLOZ*12

HAKUSHIKA

Sake Pack 2Var.

白鹿

純米、純米吟醸

30.4 FLOZ
YATSUSHIKA SHUZO

Ginza No Suzume Shochu 3Var.

八鹿酒造

銀座のすずめ オリジナル、黒麴、琥珀

25.3 FLOZ

CHOYA

Original Sparkling

チョーヤ

オリジナル スパークリング

25.3 FLOZ

KRACIE

Naive Body Wash Selected Var.

クラシエ

ナイーブ ボディソープ 各種

KRACIE

Aroma Resort Body Gel Selected Var.

クラシエ

アロマリゾート ボディジェル 各種
KRACIE

Tabinoyado Bath Salt

クラシエ

旅の宿 涼夏涼風シリーズパック

KRACIE

Ichikami Hair Care Set Smooth, Moist

クラシエ

いち髪 ヘアケアセット 2種

SANA

Nameraka Hompo Face Care Selected Var.

サナ

なめらか本舗 豆乳イソフラボン 各種

BCL

AHA Cleansing Reserch Selected Var.

BCL

AHA クレンジングリサーチ 各種
BCL

Saborino Face Mask For Morning 4Var.

BCL

サボリーノ 朝用マスク 4種

KRACIE

Himawari Shampoo&Conditioner Refill 6Var.

クラシエ

ヒマワリ 詰替用 6種

KOJI

Dolly Wink Eyeliner 8Var.

コージー

ドーリーウインク アイライナー 8種

DARIYA

Salon De Pro Hair Color For Men 3Var.

ダリヤ

サロンドプロ メンズスピーディ白髪用
KRACIE

Ichikami Hair Care Product Selected Var.

クラシエ

いち髪 ヘアケアプロダクト 各種

UNICHARM

Sofy Sanitary Napkin Selected Var.

ユニ・チャーム

ソフィ ナプキン 各種
Product information or packaging displayed may not be current or complete. Limited quantities while supplies last. Sale items and events are subject to change or cancellation without notice. Valid in the San Jose store only.
7/4 (Thu) – 8/1 (Thu)
CALPICO Summer Sale and 100th Anniversary Celebration!
In Japan, CALPICO Concentrate is known as Calpis, which was first sold on July 7, 1919 and its sweet and tangy flavor has been loved by Japanese people for a century.
This promotion has ended for the San Jose store.
7/25 (Thu) – 7/28 (Sun)
NAGOYA CHUBU FAIR
 If you've ever visited the city of Nagoya in central Japan, you have surely come away with cravings for that city's special cuisine, such as the hitsumabushi eel bowl, legendary fried chicken wing, shrimp tempura kishimen noodle, and seasoned seafood products.
Come to Mitsuwa during this fair to try these specialties and many others. You can watch a demonstration of deep fried by SEKAI NO YAMACHAN that will surely make you feel just like you are in Nagoya.
*Hitsumabushi Eel Bowl and Shrimp Tempura Kishimen Noodle only : 7/26 (Fri) – 7/28 (Sun)
【Exhibitors includes】
SEKAI NO YAMACHAN
Their popular fried chicken wings are back! These Nagoya style wings are deliciously crisp and flavorful. The tasty wings sold out each day in just a few hour in every year, so hurry grab and enjoy them before they all disappear!!
HIOKI SYOKUHIN
HIOKI SYOKUHIN is renowned for their vast selection of well-seasoned, gourmet seafood products. Their products, made with premium ingredients, are pretty much guaranteed to make your mouth water after just one sniff.
HIRAMATSU SHOKUHIN
HIRAMATSU SHOKUHIN is well-known for its tsukuda-ni, broiled fish products that ready to eat or enjoy with rice. HIRAMATSU SHOKUHIN will showcase a variety of their gourmet products.
KINTOBI SHIGA
Kintobi Shiga, established back in 1917, is set to bring a timeless and extremely delicious kishimen flat noodles that are specialty Nagoya. Stop by to taste these flavorful and smooth of their noodle while experiencing the extensive history of their dedication.
TOYOHASHI RYOSHOKU KOGYO
Toyohashi Ryoshoku Kogyo is known for food barley and barley-related products. They offer 3 types of barley products such as orge barley cereal. Come try these products made with Japan barley.
J.sweets
Confectionery
(408) 725-9263
10:00am-8:00pm
matcha Love by ITO EN
Café
(408) 777-9200
11:00am-7:15pm (M-Thu)
11:00am-7:15PM (F-Sun)
Mitsuwa NAGOMI
Sushi & Deli
(408) 255-6699
Miyabitei
Japanese Cuisine
(408) 252-5010
11:00am-7:30pm
Niitakaya
Japanese Pickles
(408) 255-6699
9:00am-8:00pm
Santouka
Ramen
(408) 446-1101
11:00am-7:30pm
(Sun: close at 7:00pm)
EVERYDAY USEFUL GOODS & SERVICES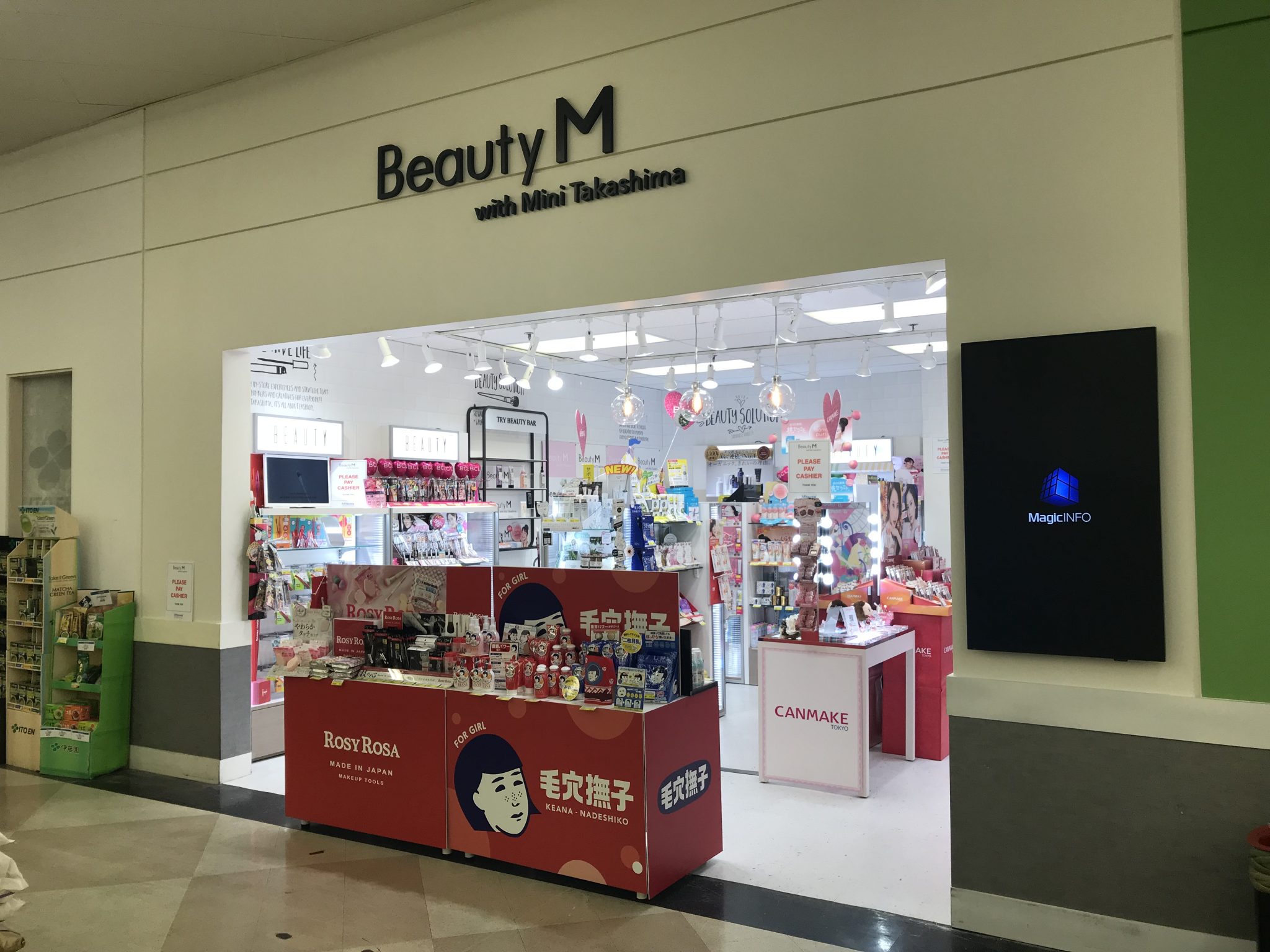 Beauty M with
Mini Takashima
Beauty Supply
9:00am-9:00pm
Books Kinokuniya
Book Store
(408) 252-1300
10:00am-8:00pm
HQ Video 
Video Rental
(408) 253-2507
10:00am-8:00pm
Insurance 110 
Insurance Service
(408) 318-9035
10:00am-6:00pm
Shiseido
Cosmetics
(408) 253-6790
10:00am-6:00pm