Store Information
Mitsuwa - HAWAII WAIKIKI

2330 Kalakaua Ave.
#250 Honolulu,
HI 96815


(808) 489-9020

Store Hours

Monday to Thursday:
11:00am-8:00pm

Friday to Sunday:
10:00am-8:00pm


Notice

*Our business hours may change without prior notice.
CURRENT SPECIAL DEALS
Jan 14 - Jan 27
HYAKUSHO ICHIBA

Ubara Rice

百笑市場

茨米

11LB

YAMAMOTO KANPO

Young Barley Grass Powder 100% 44P

山本漢方製薬

大麦若葉 44P

5.2OZ

ITO EN

Green Tea 3Var.

伊藤園

おーいお茶、濃い茶、ジャスミン茶

16.9FLOZ

POWER BRAIN

Seasoned Seaweed Paste Nori Tsukudani

パワーブレン

国産のり佃煮

7OZ
SHIRAKIKU

Musubi Shirataki Yam Noodle

白菊

結びしらたき

8.8OZ

FUJIMISO

Gokujyo Miso

フジ味噌

極上味噌

26.4OZ

MARUKIN

Family Cake 16P

マルキン

ファミリーケーキ16P

9.8OZ

ZOJIRUSHI

Stainless Tumbler 4Var.

象印

ステンレスタンプラー 各種

1PC
11/5 (Fri) – 11/30 (Tue)
Our Thanksgiving Recipes 2021
For the month of November, we invite you to share your family's Thanksgiving Day recipes!
Contribute your family's traditional dish that brings your friends and family to the table on turkey day. We're looking for unique cuisine, classic favorites, and everything in between!
Your recipe could be part of the main course or dessert, as long as it's Thanksgiving Day-themed.
Once approved, your recipes will be displayed at our online gallery on our website and you will receive a gift at our customer service desk of the store you registered!
Your recipe may also be considered for our NAGOMI (grab-and-go section) menu! If your recipe is chosen, you will receive a separate special gift!
Please fill out the registration form below to submit your recipe.
The period of submission and exhibition are as follows:
Exhibition period:   11/5 (Fri) – 1/31 (Mon)
Gift exchange period:   11/19 (Fri) – 12/12 (Sun)
Online Gallery:
Go to >> Online Gallery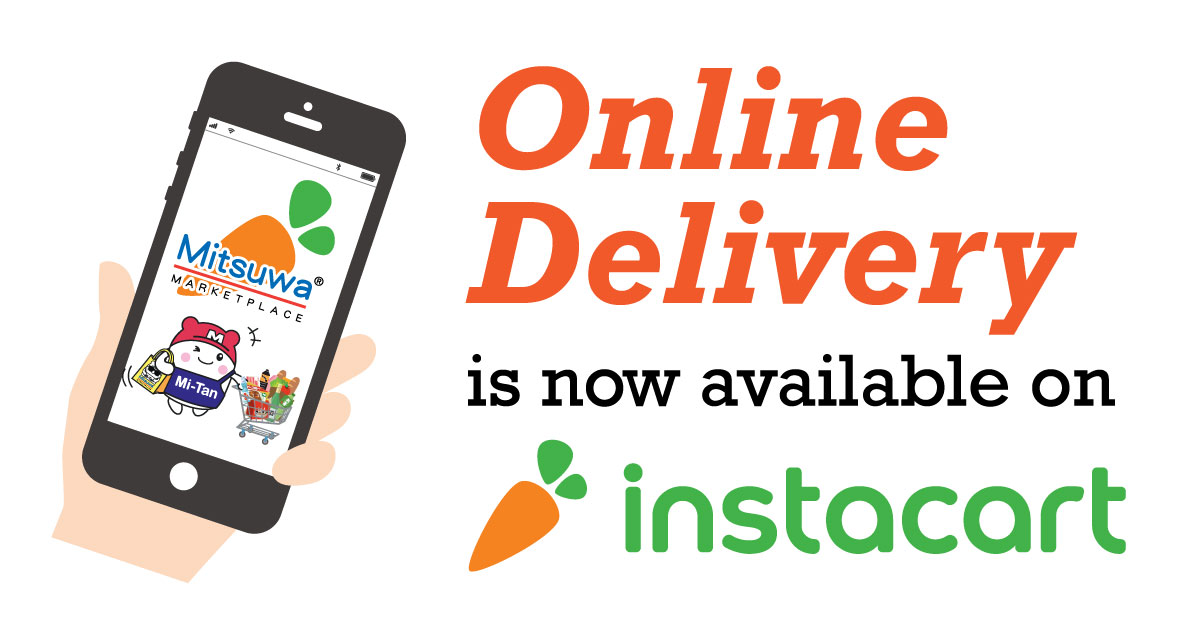 Instacart is now available!
Mitsuwa NAGOMI
Sushi & Deli
(808) 489-9020
EVERYDAY USEFUL GOODS & SERVICES
* The following regular business hours do not reflect the temporary hours under the current situation. Please see the "Temporary Business Hours" above for the most updated information.
Shop Name
Shop Category
Phone Number
Open Time
Close: hours
Website
Shop name
Shop Category
Phone Number
Website
Shop name
Shop Category
Phone Number
Open Time
Close: hours
Website
Shop name
Shop Category
Phone Number
Open Time
Close: hours
Website
Some product images shown are for illustration and serving suggestion purposes only and may not be an exact representation of the product.
Product information or packaging displayed may not be current or complete. Limited quantities while supplies last.
Sale items and events are subject to change or cancellation without notice. Valid in the Hawaii Waikiki store only.