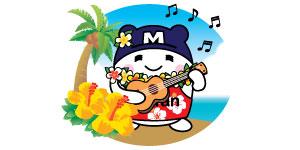 Store Address
2330 Kalakaua Ave.
#250
Honolulu, HI 96815
(808) 489-9020
Store Hours
Daily
9:00am-10:00pm
Restaurant Hours
11:00am-9:30pm
SPECIAL DEALS
From Dec.14(Fri) to Jan.6(Mon)
1/10 (Fri) – 2/5 (Wed)
Hokkaido Fair and Ainu Culture Special
~ Sponsored by Hokkaido with support from Mitsuwa Marketplace ~
Our Hawaii Waikiki store will host a rare Hokkaido Fair in collaboration with representatives of Ainu culture from 1/10 to 2/5. Ainu are the indigenous people of Hokkaido and its neighboring regions.
At the event, a demonstration from Hokkaido and special workshop will be held from 1/10 to 1/12 and also traditional Ainu crafts will be displayed to familiarize visitors with special Ainu culture.
Please check the link for more information.
---
1/15 (Wed) – 1/20 (Mon)
Mamezin
The cashew nut specialty shop, Mamezin, is coming to our Hawaii Waikiki store from 1/15 to 1/20! Check out their unique and savory cashew snacks in a variety of flavors: matcha, maple, soy sauce, and more! These variety of cashew nuts are available for a limited time only, so don't miss your opportunity!
---
matcha LOVE by ITO EN
Café
11:00am-9:30pm

Mitsuwa NAGOMI
Sushi & Deli
(808) 489-9020
MODO
Donuts
7:00am-9:00pm

Santouka
Ramen
(808) 664-0736
11:00am-9:30pm
EVERYDAY USEFUL GOODS & SERVICES
Shop Name
Shop Category
Phone Number
Open Time
Close: hours
Website
Shop name
Shop Category
Phone Number
Website
Shop name
Shop Category
Phone Number
Open Time
Close: hours
Website
Shop name
Shop Category
Phone Number
Open Time
Close: hours
Website